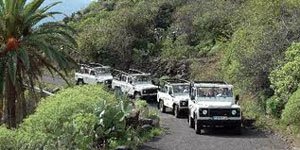 Do you like exploring new lands?
Do you like exploring new lands?
If you feel adventurous, nothing better that our
4x4 jeep safari
. On this tour your holiday experience in Gran Canaria will be totally different. Even if you have come with us before, we change the itinerary every month, so it will probably be a different safari next time.
We'll take the Jeep on dirt tracks and we'll be riding through the mountains to discover the southern part of the island. Rocks, cliffs, lakes, plants, animals, whatever you can imagine, probably new to your knowledge, as Gran Canaria has its own microclimate and has developed species that you cannot find on any other place. Discover the beauty of nature!
Starting from a meeting point that we will tell you (it depends on where you are lodged), we will pick you up at that point and bring you to adventure.
The tour will take you to hidden treasures that are not accessible in the ordinary way. In our 4x4 jeep we'll drive you across mountains and hilly slopes. Get ready to agitate your body, because our jeep moves all the time!
And also, if you love to swim or take a rest in nature, take your bathe suit, towels or whatever you use to spend a while near a lake or dam, because you will have the chance to take a bath too.
Our trip on 4x4 jeep safari in Gran Canaria guarantees fun for the whole family! Please remember that you'll get a bit dirty on this island discovery tour, as on every safari that you could imagine.
Lunch will be served in a typical countryside restaurant, offering Canarian food, drinks and a very good-tasting wine from the area. Other soft drinks, beer, and sangria are available too.
Our guides know all you need to learn about Canarian pure nature and will explain to you everything you want to know during the trip.
We will also visit some beautiful places, as Fataga village, a small but charming place where you'll see the area's handcraft, natural cotton-made clothing and garments, and much more…
We always suggest you some advice:
Bring a jacket in case it gets cold
Take some sun protection
If you bring your camera, please protect it inside a plastic (dust and little stones might wound it)
Wear comfortable clothes (something that you don't matter if it gets very dirty) and good boots
Now that you are ready to increase your adrenaline, click here to book a ticket online and start the action… Come to 4x4 jeep safari in Gran Canaria, you'll never regret it!